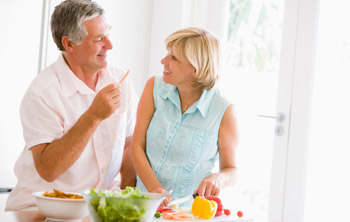 Your life turns out completely different when you are eating well and understand food because what we eat changes everything. When food goes into our stomach and digested, it gets absorbed into our blood and our blood is what creates our cells, our tissues, our organs, even our thoughts. So after all you really "ARE WHAT YOU EAT!"
Like most of us, you may probably tried a variety of diets, and may even have managed to do well on some for a few weeks or even months. However, the emphasis such diets place on willpower, deprivation and denial is both unnecessary and counter-productive. The reality is that, unless you have a plan that is practical, works with your lifestyle and takes your individuality into account, it will not last.
Conventional dietary theories present you with food restrictions and limitations that are difficult to sustain over time. Such quick fixes do nothing to help you achieve life-long wellness nor do they bring out the body's natural inclination toward balance.
We offer a program that will motivate and educate you as you transition your diet and grow beyond old eating patterns, and support you as you make simple but powerful lifestyle adjustments. Most people want to look better, feel better and live happier, more fulfilling lives. They may be motivated to make a change, but they're not sure what to do first, or they're overwhelmed by the idea of overhauling their entire lives. There are hundreds of diets out there, however each says something different. The interesting thing is that each does have scientific proof for their statements. So who do you believe? This answer is not as simple as another diet.
We will create a highly personalized program to address all your personal needs, taking into account your lifestyle, your individuality and your specific goals. You will learn your natural way of eating that will get you to your desired weight, give you the most energy, alleviate any chronic illnesses you may have, and most importantly, satisfy your taste buds.
You can learn to transform your eating habits and start getting more healthy nutritious foods into your life in delicious, simple, and quick ways. You will learn how your body is working so that proper supplementation can be achieved. You can enjoy better health without giving up all that you love in life because even small changes yield big results.
You will:

Lose weight normally and naturally
Learn eating for energy
Learn how to shop for healthy foods
Learn to prepare quick, easy and delicious meals
Figure out binge triggers and control cravings
Learn tips for dining out and eating in all social situations
Understand how your metabolic profile, ancestry and blood type all impact your diet.
Testing and proper supplementation can further rebalance your body and identify the underlying causes of your health concerns. If there are any tests that would be helpful for your situation, our lifestyle coaches will recommend them during your initial consultation.